Sale!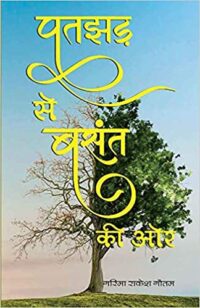 Patjhad se Basant ki Aur (Hindi) Hindi Paperback 2019
Book details
Author                 : Garima Rakesh Gautam

Paperback          :

62 pages
Product Forum : Paperback

ISBN-13              :

978-9389763805

ISBN-10              :

9389763800

Item Weight       :

170 g

Publisher            :

Blue Rose Publishers (31 January 2020)

Language:           :

Hindi
Book Genre        : Poetry
Seller                   : Buks Kart "Online Book Store"
"My Book consist of 10 stories that narrate the inner core of the human mind. In these stories, an attempt has been made to say something good by portraying the personality of good and bad thoughts around us. Where are the stories of women which narrates the stereotypes of society and the atrocities on women in difficult circumstances of life. But with the life of a monk, happiness ends with peace. At the same time, after an elderly person, you show the love of a bird. The evils of the society are also described by these stories. Which will make the reader think or whether the stories will be entertaining to the readers.".
Description
About the Author
Garima Rakesh Gautam writes books, which, considering where you're reading this, makes perfect sense. I'm best known for teaching Hindi n Sanskrit too in Maa Bharati School as a PG teacher. I also writes non-fiction, on subjects ranging from personal, i got appreciate many times for my poetry. usually I'm well known for my poetry. its my passion I used my lines for birthday celebration parties too.