Sale!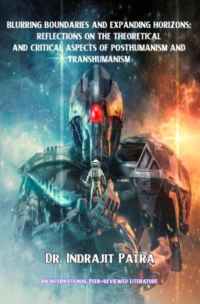 Blurring Boundaries and Expanding Horizons: Reflections…2022
Book Detail
| | |
| --- | --- |
| Author | Dr. Indrajit Patra |
| Pages | 581 |
| Book Format | Paperback |
| ISBN 13 | 978-93-91143-02-2 |
| Dimensions | 8.27 x 11.27 x 2 inches |
| Item weight | 1765 gm |
| Language | English |
| Publishing Year | June 2022 |
| Book Genre | Literature |
| Publisher | Bright MP Publisher |
| Seller | Buks Kart "Online Book Store" |
Description
The book is divided into two parts – Part I and Part II. The first Part is primarily concerned with a critical explication of the various aspects of the theories of posthumanism and transhumanism. The Second Part deals with analyzing the posthuman and transhuman elements in the 21st century narratives. The book begins with the discussion of
various directions from which trans- as well as posthumanism frequently question their relationship to humanism and reconsider what it means to be human and then endeavors to show how if transhumanism can be seen as an intensification of humanism, a type of hyper-humanism, we may view posthumanism as a break with humanism, as
a post-humanism. Then from a critical posthumanist perspective that questions anthropocentrism, human exceptionalism, and the centrality of the 'human' subject in the era of the Anthropocene, the author strives to analyze the aesthetic choices the contemporary writers in science fictional narratives make to depict the posthuman and its aftereffects.
Posthumanism is an ambiguous term that suffers from similar semantic uncertainties as postmodernism. Its 'post' prefix hints at the arrival of a new epoch – as 'post'humanism it claims to identify a new mode of being in the world that departs significantly from the conditions of humanism. As post 'humanism', the 'post' radicalizes its suffix to suggest a new model of politics and philosophy; however, it does so in a fashion that echoes its antecedent's critical ethos. Posthumanism thus refers to the populist diagnosis of a new era, a new mode of critical enquiry that defines itself in relation to humanism, and a working through of the latter's critical tradition.