Sale!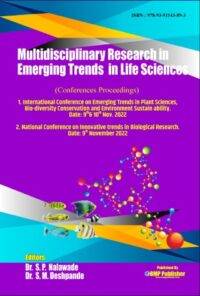 Multidiciplinary Research in Emerging Trends in Life Science – February, 2023
Book Detail
| | |
| --- | --- |
| Editor/Co-Editor | Dr. S.P. Nalawade/Dr. S.M. Deshpande |
| Pages | 214 |
| Book Format | E-book |
| ISBN 13 | 978-93-91143-89-3 |
| Dimensions | 21 x 29.7 cm |
| Item weight | 0 gm |
| Language | English |
| Publishing Year | February, 2023 |
| Book Genre | Life Science |
| Publisher | Bright MP Publisher |
| Seller | Buks Kart "Online Book Store" |
Description
The conference will be progressing ahead with its special theme "Multidisciplinary Research in Emerging Trends in Life sciences" and it will cover a broad spectrum of critically important topics including recent emerging trends, latest advancements, and recent innovative research work. ETPSBCES-2022 will cover all fundamental facets through its plenary talks, keynotes sessions, oral and poster presentations which will upgrade the growth of Plant Science, Biodiversity Conservation, Environmental Science and allied fields.
Plants and the biological processes which encompass them are vital for the long-lasting well-being of the planet and its inhabitants'. Humankind is facing critical concerns in the field of food, health, and environment which are intensified due to the consequences of climate change. Plant systems are the caretakers of the healthy ecosystems and environments, climate change, and are primary producers of food, feed, fibre, shelter and energy, and are important and efficient to tackle these critical concerns.
This conference will help us identify our skills and will aid to focus on employing emerging technologies effectively with an aim to meet the sustainability goals. Through this conference we attempt to present a wide approach to mitigate the world's critical issues through research, practical applications, and education along with an emphasis on the potentiality of plants for a sustainable, green and healthy future.