Sale!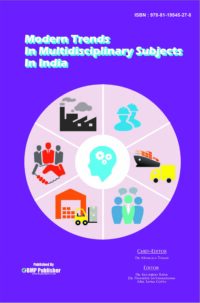 Modern Trends in Multidisciplinary Subjects in India, July 2023
Book Detail
Editor/Co-Editor
Dr. Mangala Tomar/Dr. Khushboo Rathi,
Dr. Pamarthi Satyanarayana, Mrs. Sapna Gupta
Pages
150
Book Format
E-book
ISBN 13
978-81-19545-27-8
Dimensions
21 x 29.7 cm
Item weight
0 gm
Language
English
Publishing Year
July, 2023
Book Genre
Education and Social Science
Publisher
Bright MP Publisher
Seller
Buks Kart "Online Book Store"
Description
Education in India is changing at all levels, at different levels, from different sectors.  As time goes on, social and cultural changes are taking place in the society.  This happens in the way of learning as well as in the way of giving.  In the current era, there has been a great revolution in the field of telecommunication.  Radio, TV, computers and mobiles have undergone major changes.  If we want to survive in the competition of globalization, we have to define the goals of education for the twenty-first century.  For proper implementation of higher education system educational objectives have to be set, research objectives have to be set to solve a problem.  Our country is moving from development to development.  In the current era, innovations are being made.  New research opportunities are available.  New research methods are emerging.  Languages, social sciences, science and technology, law, commerce are all providing new opportunities for research.  Various needs and problems of the society are explored through this new research opportunity.  These edited books incorporate a multidisciplinary research methodology.